The Fall 2017 OCTEO Conference
"Trauma Informed Practice: Recognition and
Support in School Communities"

WEDNESDAY - THURSDAY - FRIDAY
October 25 - October 27, 2017
Embassy Suites, Dublin, OH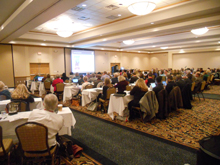 REGISTER NOW for the Fall Conference
Retired Educators - you can now register at the student rate ($50) for the OCTEO Conference
- This rate provides access to all events, meals, presentations, and networking
Come back and see your colleagues and stay up to date on Ohio Education
PDF Registration Form (fax, mail, or email)
Trauma Informed Practice: Recognition and Support in School Communities
Join your Colleagues at the Fall 2017 OCTEO Conference to learn and focus on positive steps that will encourage understanding of family circumstances, community environments, health and economic issues, which influence the lives of PK - 20 students. There is a saying, "We cannot control the wind, but we can adjust our sails." As educators, we must share responsibility, within the community, to adjust the sails and effectively collaborate with community agencies to support all student learners.
Speaker Bios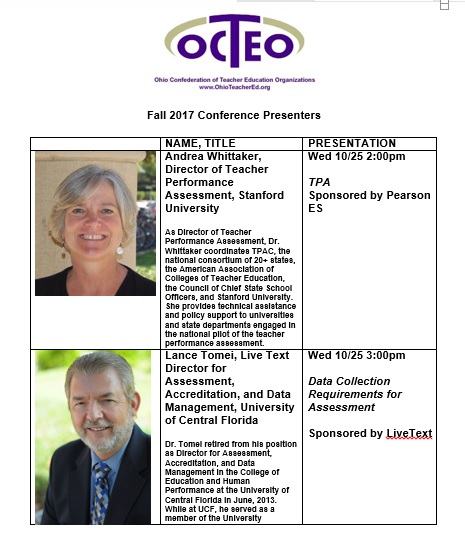 HOTEL GUEST ROOMS

Guest Suites are $132 per night if reserved before midnight October 3, 2017. All
suites include a living room, bath, bedroom, wet bar with fridge, dining table and
chairs. The living room includes a fold out couch so that rooms can be shared.
This room rate is available from Tuesday October 24 - Friday October 28, 2017
in case you have other business in central Ohio.
RESERVE A ROOM ONLINE
Or call 614.790.9000 and request the CLL group rate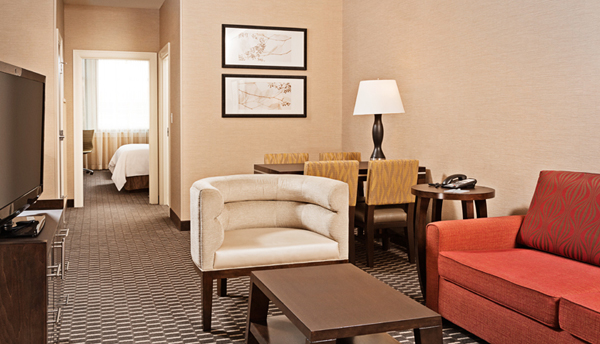 CONVENIENT LINKS
SPONSORS
ETS
Pearson
LiveText
FUTURE OCTEO CONFERENCE DATES
October 25 - 27, 2017
March 21 - 23, 2018
October 31 - November 2, 2018